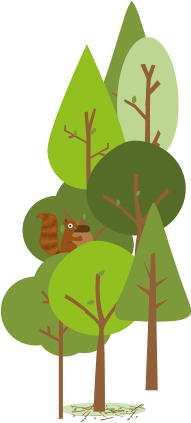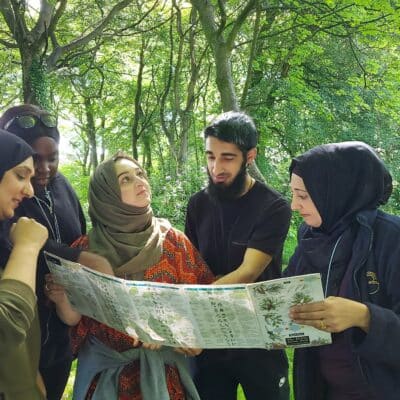 Development
Learn new skills and support others to connect with nature.
We are passionate about the outdoors and want to share our skills with others. Our outdoor skills-based training programmes help people develop the confidence to run nature, outdoor play and learning activities. We offer continuing professional development (CPD) for teachers and accredited forest school training for adults.
We support adults who want to work outdoors through employment programmes and welcome volunteers to work alongside our practitioners. At Get Out more, we believe in sharing our passion for nature and supporting people to reach their full potential.
Our employment programmes, training and volunteer opportunities equip adults with skills to achieve their goals, share their love of nature and help to grow the workforce of the future.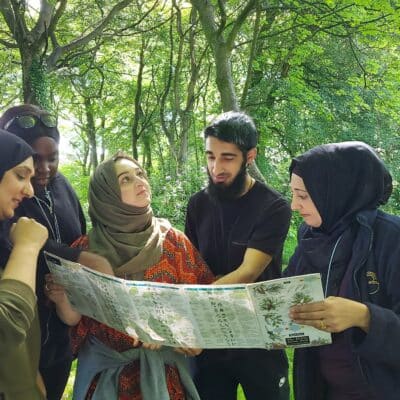 Our development programmes
Forest School Training

Accredited Forest School training and CPD for teachers

Find Out More

Employment Programmes

Skills-based programmes for people who want to work outdoors

Find Out More

Volunteering Opportunities

Valuable work experience in a safe and welcoming environment

Find Out More
"I just wanted to say thank you so much for the staff training session last night. It was a breath of fresh air. It was so nice to see everyone smiling and happy! In terms of wellbeing, I felt a million times better afterwards so thank you! It was a great success."
"Thank you so much for this amazing course. I have never thought I could have a second chance in life, and now I do thanks to you. Thank you for making me feel positive, find new friendships. I would recommend this course to everyone."
"I really enjoyed my time volunteering with Get Out More. The other staff were so supportive and encouraging and it was great to see Forest School as it should, free from curriculum guidance. Thanks for the opportunity to work with you."
Get Involved
We run employment programmes, training and volunteer opportunities to help people discover and find jobs in the outdoor sector

Get Inspired
Develop your confidence to engage with nature and support people to reach their potential by learning how to lead outdoor play and learning activities.

Get Out More
Our qualified and experienced practitioners will share their skills, knowledge and love of the outdoors to make training fun, informed and interactive.
Development FAQs
Forest school education is an inspiring, hands-on learning experience that takes place in the natural environment. Forest schools provide inspiring, positive experiences for children and adults to learn and develop new skills while having fun in the outdoors.
To lead forest school, a Level 3 forest school qualification is needed. At Get Out More we run forest school level 3 training programmes. We also offer the forest school level 1 training; an introduction to the ethos of forest school
The Level 3 Forest school training course at Get Out More is a ten-day teaching programme taking place in 2 or 3 day blocks of learning over seven months (70 guided learning hours). Learners are required to complete a series of practical and written assignments (estimated 100 non-guided learning hours) and a two-day first aid course.