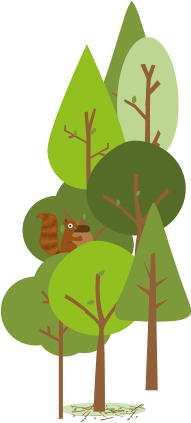 Get Out More is a trusted provider of accredited Forest School training in West Yorkshire. We have the course for you, whether you are interested in understanding more about forest school and developing skills to support a Forest School in your setting, or are interested in becoming a qualified Forest School practitioner.
We also run outdoor learning CPD programmes for teachers and educators looking to develop skills, ideas and confidence to take children outdoors.
All of our trainers are experienced and qualified Forest School practitioners bringing their skills, knowledge and love of forest schools to make training fun, informed and interactive.
What you'll do
Develop confidence

Learn new skills

Learn about nature

Child development

Collaborative work

Fresh ideas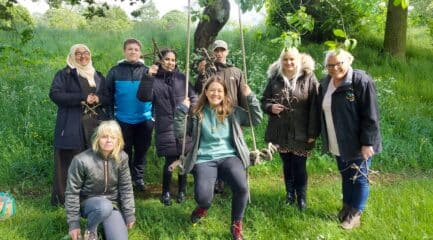 Forest School
Level 1 training
ITC Level 1 forest school training is an introduction to the forest school ethos. The Level 1 course introduces the Forest School Association's Forest School Principles and how the approach can benefit the holistic development of children.  Learners will participate a range of basic woodland skills, enabling them to facilitate outdoor learning using different learner-centred processes while encouraging children's social development, confidence and self-esteem.
This Level 1 course is suitable for teaching staff and anyone working with children and young people. It is ideal for people wanting to gain professional practice skills working outdoors with individuals and groups, or for those who want to explore forest schools and its benefits for mental health and achieving educational outcomes.
This course has been designed by Kindling Training and is delivered by Get Out More over three days.  See below for upcoming course dates.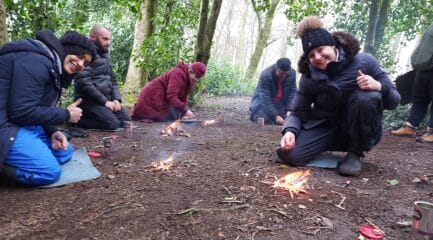 Forest School
Level 3 training
ITC Level 3 Forest school Practitioners Award is an opportunity to explore different approaches to using the outdoor environment in a forest school setting. This qualification is for those who wish to coordinate, manage and lead quality forest school sessions with children, young people or adults.
Learners investigate how to design and run a successful forest school programme and look at how to approach and apply it safely and effectively.  The Level 3 forest school training  explores the Forest School Association's Forest School principles at a higher level, developing learners' understanding of the natural environment, risk assessment, child development and nature-based learning.
This forest school Level 3 course is aimed at individuals who have a minimum Level 2 qualification in related subject or relevant experience in working with children.
This course has been designed by Kinding Training.  Get Out More will commence delivering the Level 3 programme in 2024
Forest School Training Events
ITC Level 1 Introduction to Forest School Training

February 6, 2024, 9:30 am - 4:30 pm
"For me the training had a profound impact on my life. It was a place where I was given the space to be a true version of myself. I remember finishing the training weeks feeling absolutely on top of the world"
"Thank you for your hard work, enthusiam and being a fantastic guide. You have truly inspired us all!"
"Thank you for the opportunity to be part of something amazing, I will never forget the experience"