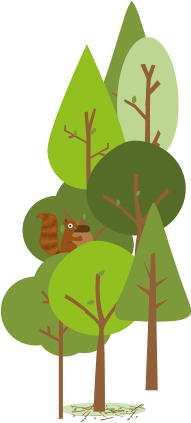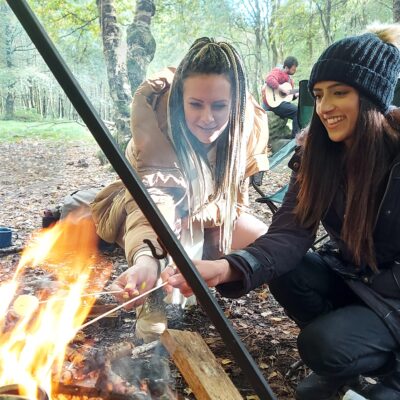 Wellbeing
Get Out More's wellbeing programmes support adults to get outdoors together and enjoy positive experiences surrounded by nature.
Our wellbeing sessions improve confidence and resilience, helping people to feel more positive and productive and boost physical and mental health.
Drawing on our years of experience from running outdoor programmes, we hold wellbeing events for people in the community and for businesses who want to support employees' health and wellbeing.  Relaxing, invigorating or adventurous, Get Out More's wellbeing sessions are designed around you to engage, improve self-awareness and give you skills to enjoy exploring your local green spaces.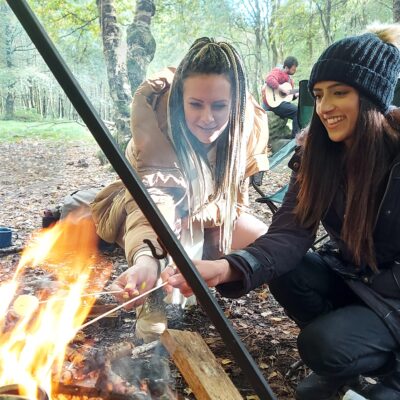 Our wellbeing programmes
Community Wellbeing

Encouraging individuals and groups to connect with nature.

Find Out More

Workplace Wellbeing

Step outside of the workplace and develop a fresh perspective.

Find Out More
"After a busy morning, the session melted my worries away, grounded me in the here and now, offered me some headspace and a real opportunity to connect to my colleagues on a personal level, away from the office environment. I left feeling refreshed, calm, and refocused."
"These sessions and the activities have enabled me to really focus the mind away from work while letting my mind consider work in a different light...it all really helps overall focus"
Get Involved
Spending time in nature is proven to reduce stress and boost wellbeing. The great outdoors is the perfect place to connect, explore and try new activities.

Get Inspired
Get immersed in nature with wild art or foraging for wild foods. Relax with yoga or Tai Chi in the great outdoors or get more adventurous with bushcraft or even axe throwing!

Get Out More
Our skilled and experienced team will guide you through the day. You'll leave with a host of new skills and will feel inspired and confident to enjoy the outdoors more.