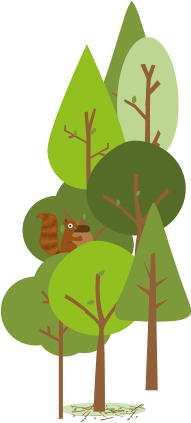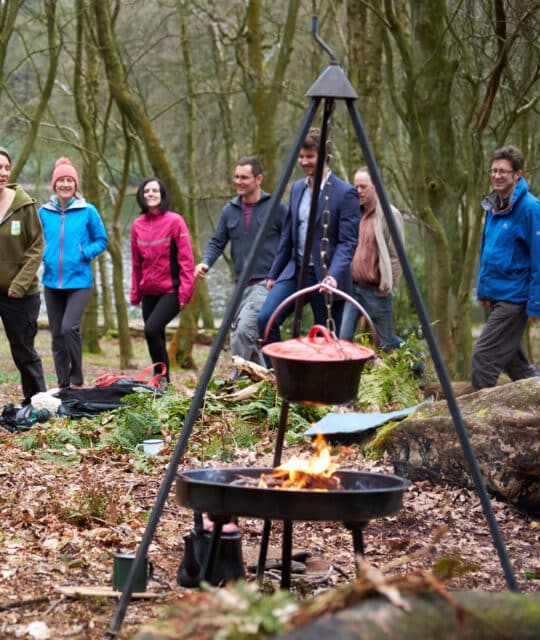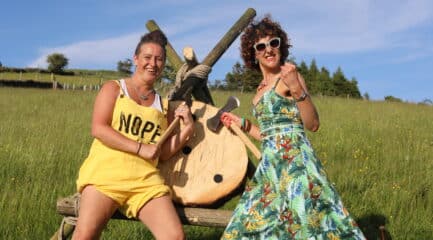 Outdoor Away Day
Fancy an alfresco away day to bring your staff together in the great outdoors? Whatever the size of your team, we provide fun, outdoor activities to strengthen relationships and boost employee wellbeing.
Get Out More will organise an away day to remember; from bushcraft and foraging to axe throwing and natural navigation, we can put together the complete outdoor adventure for your next team away day. Our experienced practitioners will make sure your staff have a great day in a safe and fun environment. A day they'll be talking about at the office!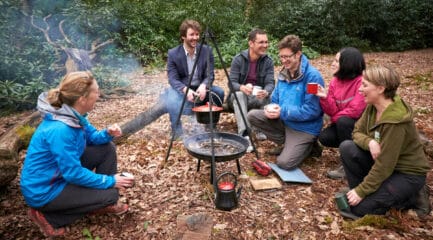 Woodland wellbeing
Research shows spending time in nature reduces stress, increases productivity and boosts employee wellbeing. Get Out More's Woodland Wellbeing sessions help staff step outside of workplace pressures to reconnect with nature and each other.
At one of our woodland wellbeing events, your employees can relax with natural art, 'forest bathing' (a sensory immersion in nature), yoga and Tai Chi. We can arrange the full package to suit your group size and budget, so on the day your team can just turn up, take part and leave feeling energised and renewed.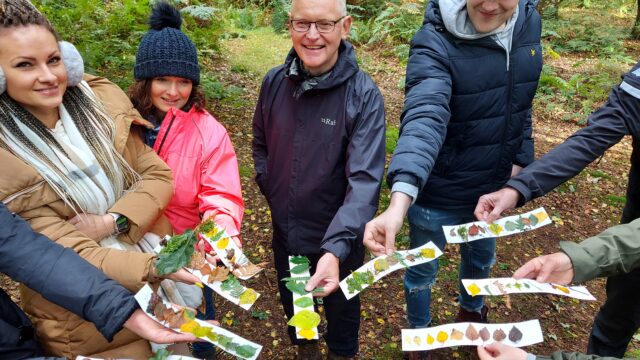 "I would recommend Annie and the team at Get Out More to any business looking to invest in its employees, to connect them with nature to improve wellbeing and to enjoy a range of high-quality, fun, facilitated activities."
What you'll do
Outdoor adventures

Teamwork

Mindfulness

Foraging

Collaborative work

Natural art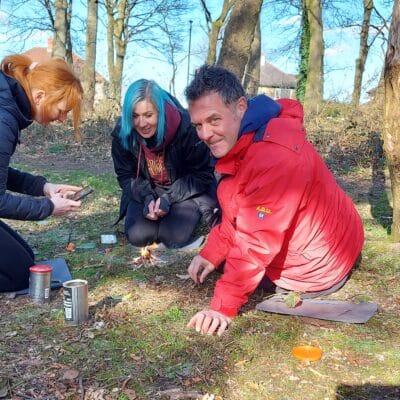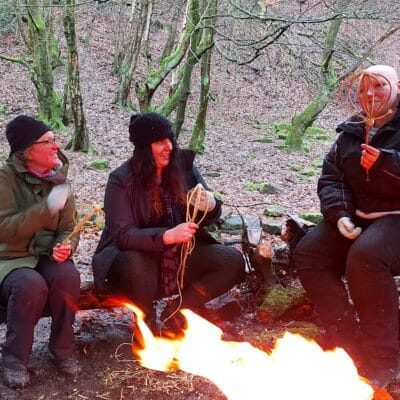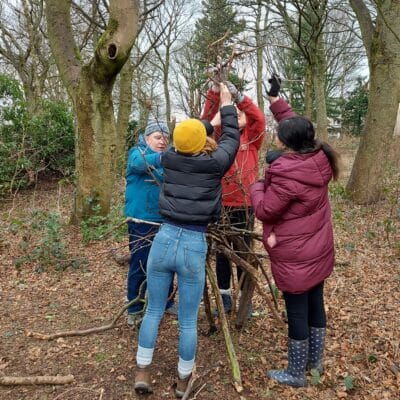 We can organise your next team away day or wellbeing event at a suitable green site in your area. Our staff will bring their skills in outdoor adventure, natural art, mindfulness and foraging to help your staff members manage stress, collaborate and feel more engaged.
When you work with Get Out More, you'll be investing in the West Yorkshire community. We are a social enterprise, reinvesting our profits into projects that benefit local communities, people and the environment. We work hard to ensure local woodland conservation and provide outdoor play activities for low-income families.
Our locations
We come to you! All we need it a suitable green site near to your office. We can also recommend local, accessible sites.
When
Half and full day formats on a date on your choice
"After two years of working remotely, we wanted to get the staff together and were looking for a change to the usual teambuilding days. From the initial enquiry through to the day of the wellbeing event, we were looked after, kept informed and the day was designed with our input and to suit all ages and physical abilities."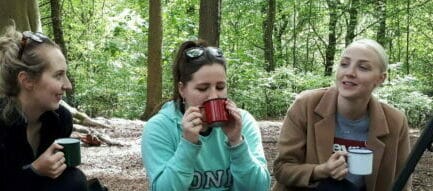 Teamwork
Increase employee engagement and raise the bar in the office by letting your employees work together outside of the office. Co-workers will gather in small groups to pull together new ideas to approach nature-based problem solving.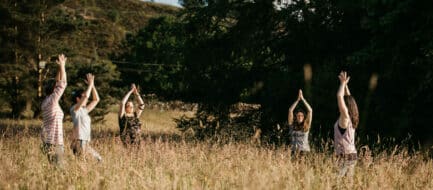 Resilience
Successfully adapting to challenging situations in the workplace requires resilience – use nature as a resource to foster resilience. Time in nature lets your team return to the workplace refreshed and ready to tackle whatever lies ahead.

Stress management
Helping employees achieve a healthy work life balance is more important than ever before. Our workplace wellbeing programmes have helped hundreds of employees manage stress and improve their overall health.

Focus
Taking part in mindfulness techniques while surrounded by nature can have a positive impact on our focus. After spending the day with us, many organisations reflected that their employees felt focused and motivated.
"Once again, thank you so much for such a fantastic morning. Everyone has said what a great time they had and really enjoyed themselves, we just wish we could have stayed longer instead of coming back to work!"