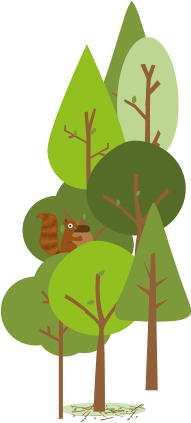 Nature On Our Doorstep: #1-10
24th March 2020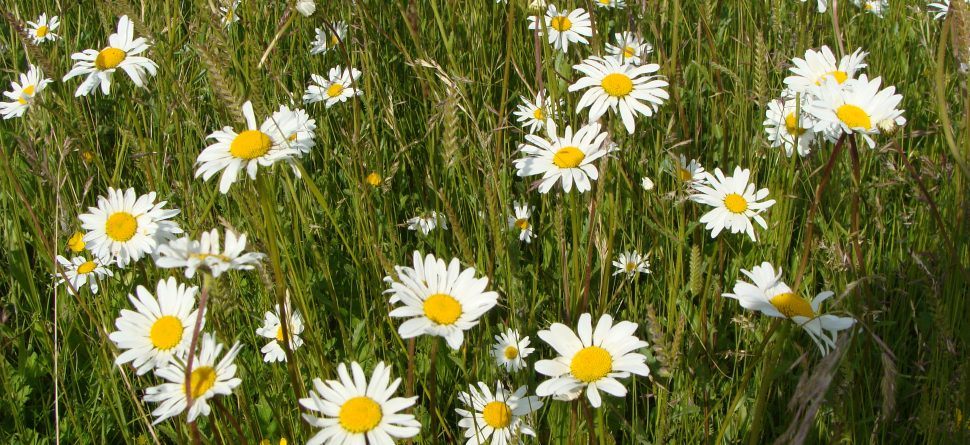 During the current crisis, we're unable to run our outdoor programmes, but know that connecting with nature and the changing seasons is important and helps us all feel good.  As schools are closed and families stay at home, Get Out More is sharing on social media a fun nature-based idea-a-day for children and families to try together at home or in the garden.
Please follow the latest advice: stay at home, only go out once a day for exercise, stay local and avoid busy places like parks and playgrounds.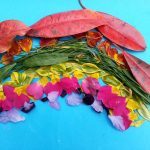 NATURE ON OUR DOORSTEP #10.
Let's make a nature rainbow!  What different colours can you find in your garden or home? Fallen petals, leaves on the ground, grass, pebbles… Or how about cutting up brightly-coloured old magazines or cereal boxes? Let your imagination run wild the show off your creations to the world!  #frommywindow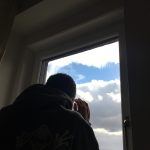 NATURE ON OUR DOORSTEP #9:
Watch the clouds go by!  Find a good view from your window or find a comfortable place to sit or lie down in your garden and do some cloud spotting. What shapes and pictures can you see in the sky?Learn the difference between cirrus and cumulus. Remember not to look straight into the sun to look after your eyes!  Enjoy some time with your head in the clouds…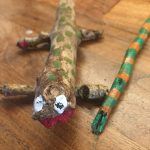 NATURE ON OUR DOORSTEP #8
Make a mini-beast! Today we rummaged around for sticks and stones in our garden and used them to create mini-beasts! You don't need much, loose twigs, stones and leaves can be found pretty much anywhere outdoors, and once you've put your imagination to work you'll be amazed at what they turn into.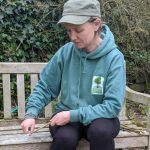 NATURE ON OUR DOORSTEP #7:
Let's learn to whittle! The technique of stick carving can be picked up with just a stick and a potator peeler. (Ask permission to borrow it first! Parental supervision advised.) Master the skills and the safety rules and the world of whittling wood is yours!  Watch Annie demonstrate whittling here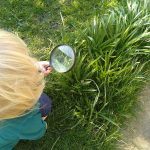 NATURE ON OUR DOORSTEP #6:
Minibeast Safari? What kind of bugs can you find?  They like to live in quiet dark places, so carefully check under plant pots, bits of old wood, or anything that hasn't been moved for a while. If you haven't got a bug viewer an old glass jar works well. We even made a little egg box home for our woodlice friends!  Return your minibeasts to where you found them afterwards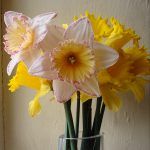 NATURE ON OUR DOORSTEP #5:
Daffodil Science:  see how plants absorb nutrients with a beautiful experiment.  Add some food colouring to the water of flowers such as daffodils and leave overnight.  What results can you get with different flowers and dyes?  (Please don't pick flowers from public spaces – leave them for others to enjoy.)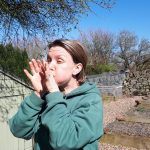 NATURE ON OUR DOORSTEP #4:
Lets make some noise! Can you master the skill of creating a not so subtle whistle with just a blade of grass? Put a blade in the gap between your adjacent thumbs and blow.  Try different grass for different sounds and maybe even get a grass orchestra together!  Watch a video explaining how to grass whistle here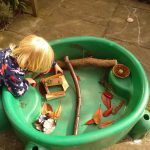 NATURE ON OUR DOORSTEP #3:
Explore the world in miniature!  From your garden or on your daily exercise, collect as many natural things that you can find. Then let your imagination run wild as you create a magical mini-world for the fairy folk or Borrowers. They'll need a nice comfy bed, somewhere to eat, some 'food', shelter and even some fun things to play on, like a swimming pool and diving board!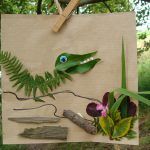 NATURE ON OUR DOORSTEP #2:
Let's get creative! From your garden or on your daily exercise, collect some leaves and flowers and make your own natural picture at home. Do the shapes remind you of a fantastical creature, some crazy fashion or a beautiful landscape? You can make glue from flour and water, if you've none at home.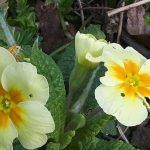 NATURE ON OUR DOORSTEP #1:
How many signs of spring can you spot from your home or garden? Flowers blooming, trees coming into leaf, birds singing or building nests or rays of sunshine streaming through the windows. Take a photo or draw a picture and share it with others to brighten their day!