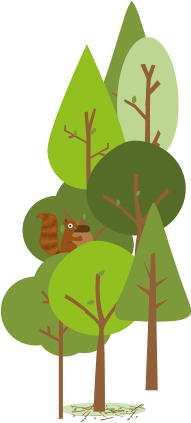 Nature on Our Doorstep #111-120
14th July 2020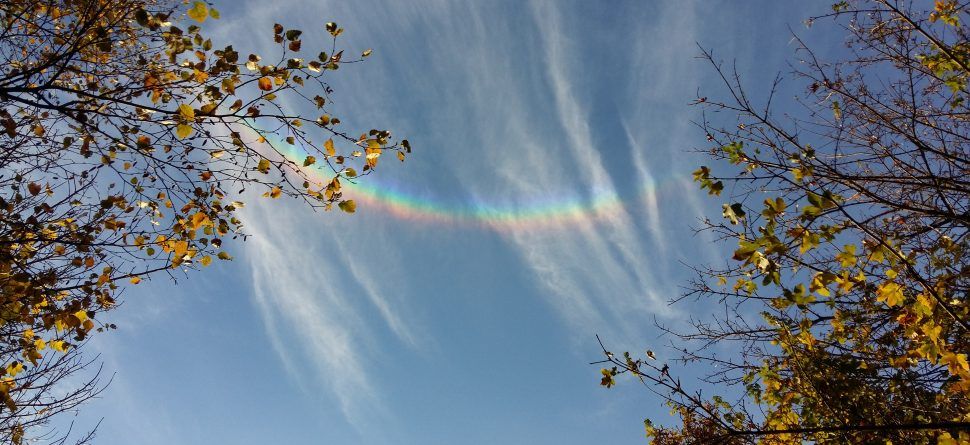 Get Out More has been posting a fun nature-based idea-a-day for children and families to try together at home, on exercise or in the garden, since the beginning of lockdown on 23 March.  Now that restrictions have lifted enough for us to be able to run our programmes again, this is our last page of Nature On Our Doorstep posts.  We hope that you have enjoyed connecting with nature and the changing seasons and you are able to get out more this summer too!
Please follow the latest advice: stay at home as much as possible.  When you go outdoors keep your distance from other people and avoid busy places like  playgrounds.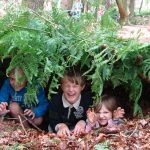 NATURE ON OUR DOORSTEP #120
Thank you!  When lockdown began, we put our heads together in the new, virtual Get Out More office and pledged to put our practical outdoor knowledge & ideas to good use. This materialised in the form of daily online posts for families and individuals, like yourselves, to access and help incorporate a good old dose of 'outdoors' into a new and somewhat strange routine. With 65 days of summer left, we plan to spend as many of those as possible in the woods and so these posts are returning to our normal schedule – we hope the 119 Nature On Our Doorstep posts to date have given you plenty of ideas, so you too can get out, engage with nature and enjoy waking up your senses!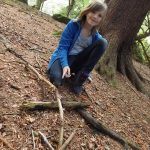 NATURE ON OUR DOORSTEP #119
Tracking.  Arrows and signs have been used by outdoor explorers for years and can be used to let people know where you are, where water is, where camp is, a dangerous path to name just a few things! Can you create an outdoor trail out on your favourite walk for friends and family to follow?  Almost anything you can find on the woodland floor can be used to create signs. Take a look at the images below for inspiration on signs to create and materials do use. Happy tracking!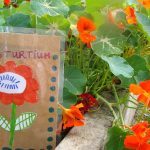 NATURE ON OUR DOORSTEP #118
Plant Labels. Summer garden flowers are now in full bloom and a lovely way to spend an afternoon whilst also teaching children the names of favourites, is to make labels to add to your pots. Children can design their own in whatever way they choose. They could draw the flowers, cut them out, and stick them onto different colour paper and card. The sturdier the better to help protect against summer showers. A lovely calming activity that all ages will enjoy.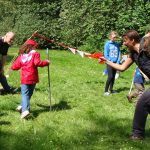 NATURE ON OUR DOORSTEP #117
Parks Week 2020.  From the 24th July you can help Keep Britain Tidy with their summer-long campaign to reduce anti-social behaviour in parks across the UK. "Parks and green spaces have been utilised and valued by a huge number of people since the country locked down at the end of March.Sadly, alongside this has come a substantial increase in anti-social behaviour from some members of the public and the volumes of litter and waste being left behind have exceeded anything parks have ever had to deal with, even at peak times."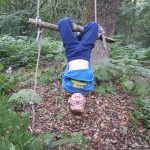 NATURE ON OUR DOORSTEP #116
Swings.  Spending your afternoons on a swing. Such a simple thing but gliding through the air, you can almost imagine you are flying. All you need to make one is some rope, a sturdy log to turn into a seat and a tree with a solid branch to hold it all up! Throw the rope over the branch, secure the log at the bottom and away you go!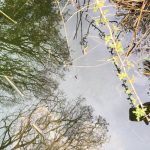 NATURE ON OUR DOORSTEP #115
Pond Dipping.  On your next walk, try to find a local one with access to a pond, stream or river. Once at the water, quietly sit and see what creatures you can see. If you take some tupperware, can you scoop the creatures out to have a closer look? Look online for a pondlife ID sheet to see what you've found. Of course, children should always be supervised when near water.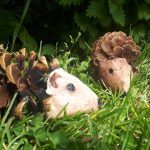 NATURE ON OUR DOORSTEP #114
Pine cone Hedgehogs.  Hunt for pine cones, which can be found on the ground in the woods right now as strong winds blow them off the tree. Follow this salt dough recipe then turn your pine cone into a spikey garden friend! Shape a small ball into a point for the hedgehog's snout. Bake or leave to dry outside then paint on eyes, ears and nose.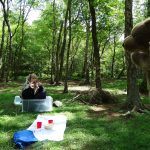 NATURE ON OUR DOORSTEP #113
Photo Stories.  Can you re-enact a children's story in photos? Thinking about editing a favourite story to just 4 or 5 scenes helps us to understand the sequence of action. Have fun with props and toys to set up each shot. Afterwards you can work on getting the order right and even making some subtitles. These scenes are from the story of It's the Bear by Jez Alborough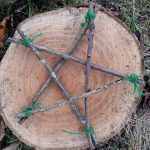 NATURE ON OUR DOORSTEP #112
Star Sticks.  How many sticks can you collect on your walk? Too many to know what to do with we bet! They can easily be turned into beautiful stars using string or wool. Take 5 equal-sized sticks and arrange in a zigzag. Attach each one together then weave to make a 5-point star. Check online for images for help and see how many you can make together!
NATURE ON OUR DOORSTEP #111
Fruit Milkshakes.  Great for getting littlies involved as well as older children, making your own fruit milkshakes is a brilliant family activity for the weekend. Pick your favourite fruits, add some milk then blend up! What flavours can you make? Which combinations make the best colours? For those that don't like milk, add ice and make fruit slushies instead. Whizz them up and enjoy!