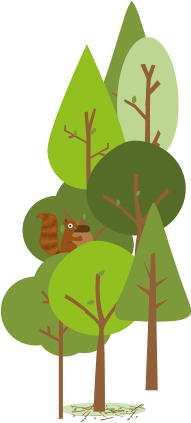 FOREST SCHOOLS
Adventure, play and
learning in the woods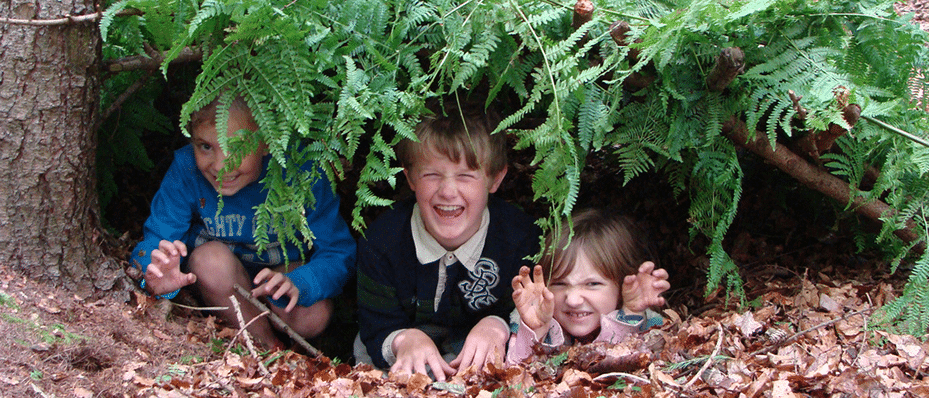 Woodlands are magical places which provide a wealth of resources for discovery, learning and play. At forest school positive experiences in the outdoors inspire children and adults to develop new skills, have fun and (re) discover their love of learning.
Get Out More forest schools include elements of problem solving, managed risk taking, creativity and co-operation through diverse activities such as woodland games, art, den building and campfires.  All Get Out More forest school programmes include a mix of creative and adventurous activities, learning and reflection. When appropriate we will include use of tools and fire, all undertaken according to carefully managed and risk assessed policies and procedures.
By taking part in forest school over a series of sessions, participants develop an understanding and love of the outdoor environment and a range of social, physical, creative and intellectual skills.  They are led by trained professionals and take place over a programme of at least 6 sessions, although taster sessions are available.
Get Out More is available to run forest school programmes in schools for pupils in foundation Stage – key stage 3 and out of school settings such as youth or community groups of adults.  To discuss forest school programmes please get in touch via the Contacts page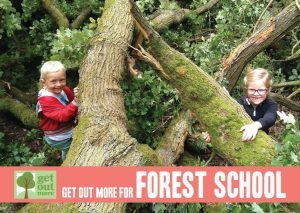 Get Out More also runs popular school holiday forest school programmes at:
St Ives estate, near Bingley
Middleton Woods in Ilkley
Hirst Woods in Saltaire.
Park Wood and other sites in Keighley
To see what bookable events are coming up, visit our Take Part page.
We just wanted to let you know how much our daughter enjoyed her day in the woods with you all today. She loved having the freedom to choose what she got stuck into and came back absolutely buzzing
Lizzie Evans, parent
It's such a credit to you and your team that you manage to keep the kids so stimulated and excited despite their increasing age and familiarity with forest school – it is clearly losing none of its magic and appeal. Long live forest school!
Susan Richardson, parent
They come away with smiles on their faces, bows or other items, stories to tell.  They are often worn out, full of happiness from the exciting day.  I have recommended the scheme to friends, as I really believe it is a great scheme. The leaders enthuse the children, empower them with new knowledge and allow them to explore the outdoors within a safe setting. It's a great alternative to Xbox, mobiles etc.
Helen Reed, parent
"I like Forest school because I can get mucky and make new friends. I have learnt how to make proper dens and how to use a camp fire safely. I can't wait until the next Forest school"
JDS (aged 9)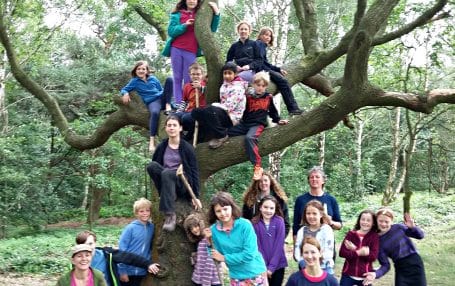 Get Out More's Holiday Forest Schools
Get Out More ran its first holiday forest school in St Ives estate near Bingley in August 2010 and it proved so popular, we've been running them every school holiday ever since. Thousands of children and young people have now attended our programmes in Bingley, Ilkley, Saltaire and Keighley, coming back time and time again to enjoy a wild time on our 2 or 3 day programmes.
Activities are child-led and days usually include lots of games, den building, wild art and campfire cooking, all supervised by our experienced forest school practitioners. Parents drop off their children with us and collect them afterwards, tired, muddy and exhilarated from their adventurous day in the woods.