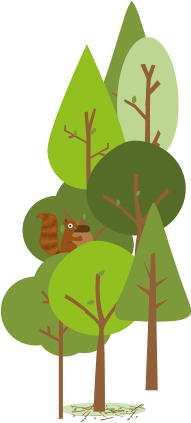 Lessons from Nature; Rewilding our Garden
27th July 2021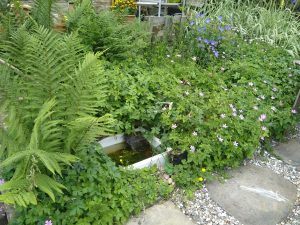 When the days were short, the trees were grey and the soil was bare, we moved into a new house. It had a slightly bigger garden than our old one, and that made us very excited.  Big gardens are not really a thing in our West Yorkshire hometown, but it's perfectly possible to make any outside space a haven for wildlife.   22 million people have access to a garden, according to Rewilding Britain (an organisation focused on rewilding and the benefits it can bring to people, wildlife and the climate) and, as they say, that's a lot of land for wildlife and nature. But we Brits have a tendency to be neat freaks and that's not great for nature, which really thrives in unkempt loveliness at the fringes of our gardens, towns and cities.
The new garden had been used mainly as an allotment but having had all the fruit bushes removed now provided an inviting blank canvas. It doesn't have to be costly plant up or rewild a garden – in fact you'll find that some of the best plants for wildlife come to you! For example, brambles, nettles, ivy and dandelions are seen as nuisance weeds, but they're also wonderful for bees, birds and butterflies.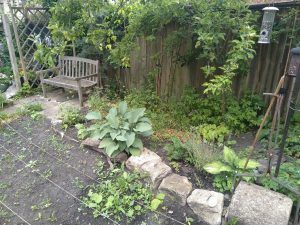 To rewild our patch, I started by picking up plants at sales, and from friends and family (star pollinators like foxgloves, lavender and lungwort). We also bought a couple of young trees in the spring (at a bargain price because tree planting generally happens during the winter months). A rowan tree is one of the best and most beautiful choices – they don't grow too big, their creamy-white flowers provide valuable nectar and the red berries are an autumn food crop for birds.
Wildflower seed is widely available, even in supermarkets now, and for one barren patch in our garden we sprinkled a bee-friendly mix, rather than grass seed. You can achieve a similar effect by leaving swathes of your lawn unmown – or even just the edges, as we do. It's the best of both worlds for family gardens where kids need short grass to race around in. Top tip: if you want more daisies in your lawn, after mowing sprinkle cut daisy flowers around the lawn and you'll find more seed themselves,
Probably the most positive thing we've done for our garden is to add a pond.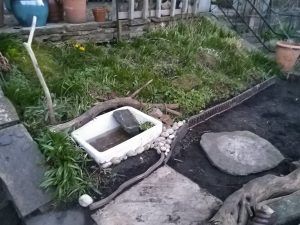 And it was really easy. An ecologist friend said you can never have too many ponds – a water source is so important for all wildlife – but for most people space is an issue. We made ours in an old Belfast sink and it was easy to follow step-by-step guides online. As the pond is steep-sided, we built up stones inside and added a wooden plank leading up and out to please the frogs, and more importantly to allow hedgehogs to climb out, should they ever fall in. It has been a huge hit with our children and with every child who comes to visit; the tadpoles and pond snails creating an endless line of inquiry (occasionally leading to a small animal's demise) but mostly to wonder and joy.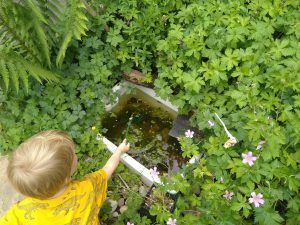 This spring and summer our green-fingered work has paid off and highlights have included a pair of wrens shouting the odds and bobbing about on the boundary fence and goldfinches perching above our bird bath – the first time these striking birds, faces daubed in crimson and gold, have ever chosen to visit a garden of mine. And just this week, a hedgehog – the pinnacle of urban rewilding success. I hope he's going to eat all the pesky slugs and snails currently enjoying my bedding plants! We've made him or her welcome by ensuring there are spaces underneath our fence (and our neighbours') to allow hedgehogs to roam freely between our gardens.
For more inspiration and simple tips on making your garden a haven for wildlife, check out Wildlife Friendly Otley's website. They've also got an excellent online 'Kids Area.'
The exciting thing about rewilding in your outside space is that it's so quick, and easy. It appeals to the most impatient child and the laziest gardener and we have attracted a wealth of wildlife, despite our town centre location.
By Sam Colman