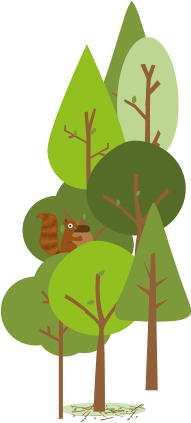 The Lost Words September: Conker
30th September 2020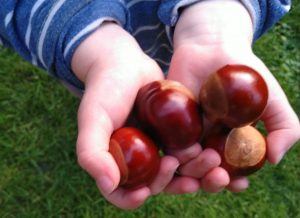 Conkers to me always symbolise new beginnings. There is a huge horse chestnut tree in the grounds of my children's school, and every year as the new term starts in September, so begins the daily hunt for any fallen conkers, and the challenge of breaking them open to see how big they are! When the Get Out More team agreed in September last year that our theme of the year would be a tribute to the wonderful Lost Words book, never could we have imagined what lay ahead of us, and how much more important nature would become over the coming months. Suddenly it's autumn and we are at conker time again. Someone seems to have put the world in fast forward!
'Cabinet maker, could you craft me a conker
Oil its wood, burnish its veneer, set it glowing from within?'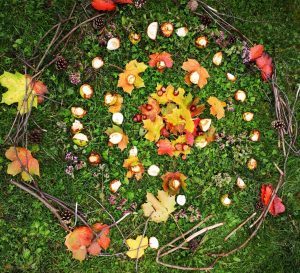 Conkers; the bringer of joy, the creator of life. It's no great surprise that the narrator in Robert McFarlane's poem is requesting that one be made for him, as they are incredible creations. Conkers truly are an example of nature at its finest! Their spiky outer shell protecting the seeds from predators, with soft lining proving the warmth and comfort needed for the conker to grow into the big strong shiny specimen we find on the ground, broken free of its casing.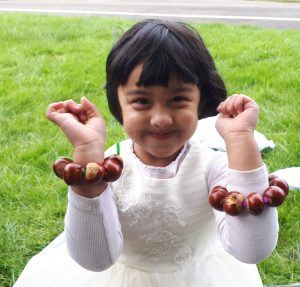 It is incredible how something as simple as a conker, can provide children who've been in school all day, with an instant hit of joy in nature. This year more than ever feels like September has been a new start. Not just a new school year, but a 'new normal' to adjust to. I often wonder how many new normal's these huge horse chestnut trees have seen as they have stood there for decades, if not centuries, year after year, being the magical conker-conjuring tree! What stories could these trees tell us? If only they could speak! Whatever it would be, I can't help but feel it would be filled with incredible wisdom.
by Susan Eardley
Robert Macfarlane on Twitter: @RobGMacfarlane