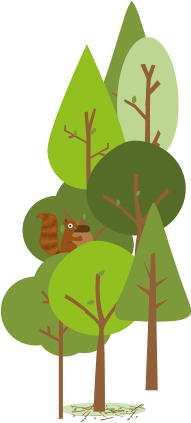 The Lost Words May: Bluebells
21st May 2020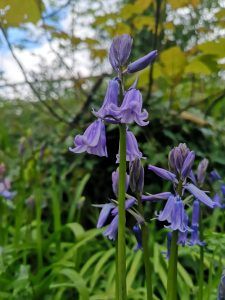 Life has changed so quickly over the past few weeks, but one thing we have still been able to continue are our walks.   All our blog posts this year have been inspired by the work of Robert Macfarlane, specifically his book 'The Lost Words', and this month we're focusing on the humble Bluebell. His line '..billows blue so deep, sea-deep' evokes images of losing yourself to a deep blue ocean, and as you walk through the woods at this time of year, this is exactly how it feels.
We asked a few of our team if they'd like to write a short piece about bluebells so this month's blog takes the form of four voices, all focusing on these woodland gems.
Hazel: My fondest memory as a child, is roaming through woodlands and playing in the long grasses in the meadows. Collecting wildflowers, building dams in the streams, and going on new adventures. I remember seeing bluebells for the first time, I was mesmerised and overwhelmed by the blueness, like a violet carpet emerging in spring or a sea of drowning blue.   I have a 'love' of taking photos when I go walking of beautiful vistas, wildflowers, and trees. Afterwards, I reproduce my photo using paper or canvas with acrylic paints, watercolour, and pencil.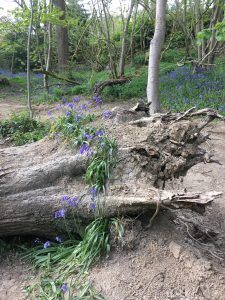 Susan: I am lucky to live close enough to Middleton Woods, where we run our holiday forest school programmes, that I get to visit every bluebell season. It has become a local tourist attraction, providing visitors with what feels like miles and miles of purple seas ahead of you as you walk through the woods. What always astounds me is the resilience of the Bluebell, they seem to be able to grow anywhere and everywhere, we even get them in our rather abandoned, and mainly destroyed by footballs, garden.
On a walk to Middleton Woods, we saw bluebells growing from a fallen tree stump. I remembered digging in that exact tree with children on our holiday forest schools, looking for bugs and worms, and felt a warm fondness for the fun and freedom we had then. I wondered how much our digging had to do with them growing in that fallen dead tree. Mostly, however, I marvelled at how even in the face of whatever terrible fate felled the tree, the bluebells managed to not only survive, but thrive! I will hold onto that thought of the ever-strong bluebell and use its inspiration to drive me forwards through these difficult months ahead.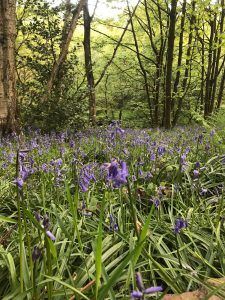 Lauren: We have two young boys (2 and 6 – and don't we know it!), a 1-year-old retriever more leg than brain and a 12-year-old lab who lives life in the slow lane more often than not these days. Since schools shut and my husband and I started working from home, we've been out with all four every day to keep us happy, healthy and stave off cabin fever, and in doing so have found countless new, and seemingly undiscovered, footpaths to explore.
Over the past 2 weeks, this has meant we've watched the bluebells emerge in small groups, come together in greater numbers each day, and eventually turn into seas of tiny blue jewels on most of our adventure walks. Only a few weeks ago, there was little colour around, days were still chilly, more often than not, and it feels as though these tiny little flowers have blossomed to announce brighter and warmer days ahead. I couldn't help feeling a pang of misplaced jealousy towards them, growing unaware, in huge groups – what I wouldn't give for us all to sit in the midst of a noisy crowd. Those days will come again though, and when we're back in it I'm sure we'll be longing for these quiet days exploring our village with family so, for the moment, I'll enjoy these walks for what they're bringing – beauty and an appreciation for everything we are privileged enough to experience on our very own doorstep.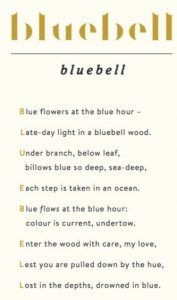 Clare: I love bluebells for the same reason I love Kate Bush, they both make 'children of us all.'  I'm walking through the woods, 'each step is taken in an ocean'; I am sailing on waves.  I look down the banks; this is my hazy kingdom and I am the princess who demands a purple carpet wherever I walk.  I lie down; I am a roe deer, watching the world from underneath my blue blanket.
That's the magic of the bluebells.  They change the light and things are not as they once were.  Like a Kate Bush song.  Grown-ups get 'lost in the depths, drowned in the blue' of the flowers and accidentally stumble into an imaginary land of fairy tales and fantasy, a place where children play all the time.  Bluebells are powerful and cool.  Cooling too.
Whatever your musical tastes, I hope you have enjoyed the bluebells this year or have some memories of seeing them before.  Thankfully, they will be back again next year.
Resilience, persistence, recovery, joy; bluebells have a lot to teach us. If you are quick, you may catch the last of the bluebells this spring and enjoy the spectacle of one of the wonders of the natural world.
By Lauren Emsley with features from Hazel Thompson, Susan Eardley and Clare Proctor
Robert Macfarlane Twitter: @RobGMacfarlane