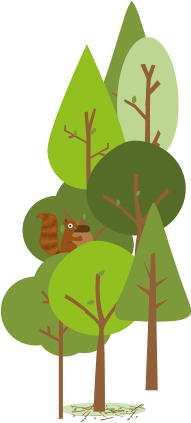 How we got out more this summer
7th September 2018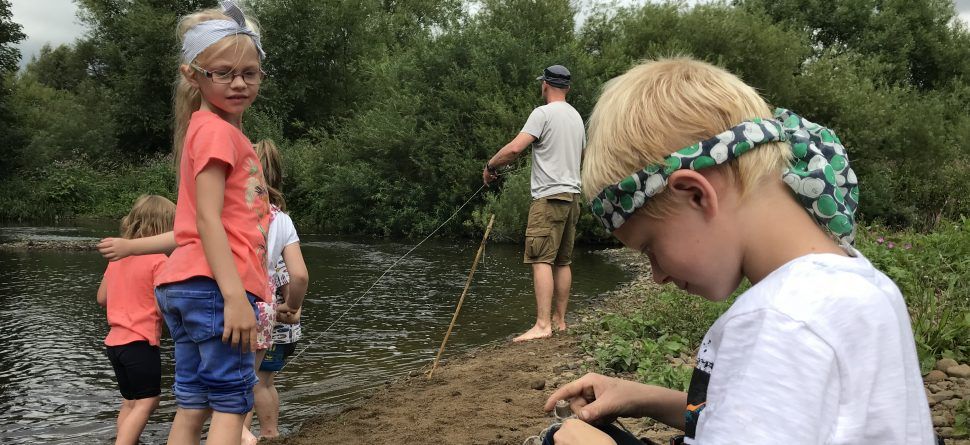 "Everything good, everything magical happens between the months of June and August"  Jenny Han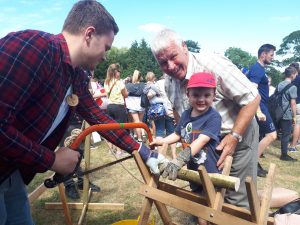 What a summer of magic it has been;  the days were long, the sun shone and we had a full programme of forest school and outdoor play happening across Yorkshire. The long hot summer brought all the generations outdoors to summer events and it was great to meet so many of our existing clients and make new ones at our stand at the Great Yorkshire Show in July.  When our term time programmes in Bradford and Dewsbury came to an end, we switched straight over to the holiday schedule and were busy all summer long with our popular holiday forest schools and community programmes.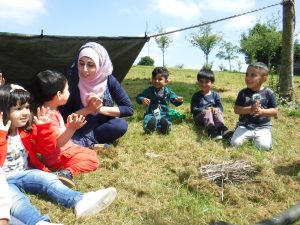 The first three of the forest schools in Bradford nurseries concluded in July, with each child picking up a goody bag of outdoor resources for completing the ten week programme.  Better Start Bradford is a major ten year programme to test and evaluate initiatives which improve outcomes for young children in inner city Bradford.  Our Forest School Play Project means we will be working with 33 nurseries over 3 years.  The first three nurseries report that their forest school children were showing more independence outdoors and this confidence was transferring back into their learning indoors too, indicating early on that forest schools are having a positive impact on their development.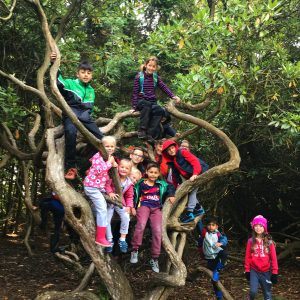 All for Play is part of the Keighley Big Local, a long term initiative to make east Keighley a great place to live work and play. This summer we ran a non-stop summer scheme that included pop-up events in parks, forest schools and family trips.
"Thank you to Lizzie and Sam for today. We have had an amazing day! We all loved it. It has helped the kids make new friends and helped with their team building skills. It has also helped with our children's individual needs and its helped us all as a family to have a more relaxed family time together.  For (us) the adults it has massively helped with our anxieties; we have been able to make new friends and enjoy our time outside. Thank you both again, we really looking forward to the next session!"  All for Play parent – and now a Get Out More regular volunteer.
We piloted a joint playscheme with Keighley Play Rangers; we ran nature-based play in the morning and the Play Rangers put on sports activities in the afternoons.  It was so successful we plan to extend it next year.
"Kids so excited for day out in woods. Highlight for school holidays for them, who needs to pay out £1,000 for kids' holidays, when they would rather go off with Lizzie Sam and Annie for a day of adventure learning how to tie dye, build obstacle courses, swings, light fires and so much more. Nothing better than seeing children climbing playing in muck, team building and having a ball.
Thank you for a fantastic day" All for Play Parent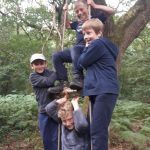 Our Holiday Forest Schools are always popular, especially in the summer when busy parents are looking for engaging activities to keep children occupied during the six week break.  What better way than forest school, where child-led play in the outdoors mean children get to create their own adventures and enjoy freedom from structure and the confines of four walls, safely supervised by experienced practitioners.  We ran nine programmes this summer, many of which were affected by a campfire ban due to the dry weather, but it didn't stop the adventure, like this amazing zip wire at our Ilkley programme:
"Just a note to say Henry and Jack whilst utterly exhausted have just loved every minute of their time! Thanks for a great time… we'll see you again! "  Parent of holiday forest schoolers
Sadly a hot summer has given way to a damp September, but as the leaves turn golden and and the woods are brimming with the fruits and nuts of autumn, we are looking ahead to a rich season of forest schools for children and walking events for adults.  Hopefully see you out there again soon!