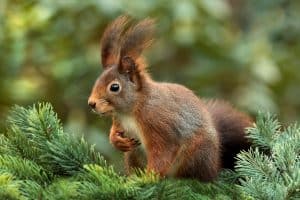 I had been trying to catch sight of red squirrels in the wild for a few years.  On trips to the Lakes or Scotland I had spent hours watching in woodlands to catch brief glimpses in the trees, but now in a woodland in my native Yorkshire they seemed to be everywhere, clambering up trees, scampering across logs and even running around my feet.
I walked barefoot along the board walk early one summer morning, trying to creep up one of Britain's rarest mammals.  At this time of day, I had Malham Tarn to myself, so my ears were straining above the hum of insects and songs of birds, to hear a watery splash.  
We regularly meet badgers in children's stories, usually as the wise old elder, (e.g. Wind in the Willows, Fanastic Mr Fox), or occasionally as a savage and cunning baddie (e.g. The Tale of Mr Tod, Watership Down), but either way, if there is an anthropomorphic tale set in a woodland, Mr Brock Badger will be there.
Growing up hares seemed much more common a sight, hiding in the long grass or boxing in the fields.  These days I rarely see them, but when I do they delight and transfix me, like the one last summer that appeared when I was lost down a country lane and lolloped along in front for several minutes, as if to guide me in the right direction.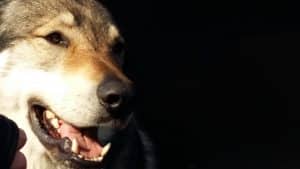 For my 2017 blog I want to seek out encounters with with some of the UK's native animals and birds.  Despite working outside in some beautiful Yorkshire woodlands, we rarely see much wildlife beyond birds, grey squirrels and the occasional startled deer.  The time of day and the noise of children enjoying forest school has a lot to do with that.  
The humble bare stick, plentiful and coming in all shapes and sizes, is the building block of many winter making activities.  We've spent this month at forest school collecting, carving and crafting them into simple decorations to celebrate the season. While many beautiful Christmas craft projects are so intricate they are only possible in the comfort and warmth of your own home, all the ideas below are tried and tested simple ideas to make outdoors.
It is a little known fact that November marks the opening of the Wild Soup hunting season.  These shy non-native creatures can be found hiding in our woodlands and tracking them down can be a fun sport during our autumn forest school sessions or family walks.  At this time of year their distinctive winter plumage stands out amongst the muted colours of the forest, so the canny creatures will seek shelter in nooks and crannies of rocks and thick brambles to attempt to stay away from hunters' eyes.
If you are thinking that the autumn colours seem particularly vivid this year, you'd be right.  The combination of a wet spring and some sunny late summer days have given the trees a good growing season and built up the conditions for spectacular display of autumn colour, which keeps taking my breath away.
As children we would dream of having adventures like the Swallows and Amazons:  when their summer holidays came round the Walker children would spend it camping on an island in the middle of a lake. With no adults on hand and just the cavalier parental advice that 'if not duffers, won't drown', they spend their holidays having adventures in boats and sleeping under the stars.
You've got to respect the Elder tree; vitamin-rich berries, gnarly climbable branches and brittle sticks of kindling that will get the fire going – it's the tree that keeps on giving throughout the year, but its at its finest right now in June with its white froth of perfumed blossom filling up the hedgerows.