Case Studies
Theme: Community Engagement
Project: Landscoping
Client: Kirklees Council
Dewsbury Country Park is a former landfill site between Ravensthorpe, Dewsbury Moor and Heckmondwike which is about to be transformed into the largest new woodland in West Yorkshire.  This year Kirklees Council has commissioned Get Out More to engage the community in the development of Dewsbury Country Park.  Annie Berrington and Tom Bardon have designed and are delivering Landscoping, a programme of free outdoor activities to bring people to the site and gather their ideas for how they would like it to be developed.  Landscoping has put Dewsbury Country Park on the map and is generating interest and enthusiasm from Dewsbury's many communities for this new greenspace on their doorstep
"In the Landscoping work Get Out More is currently doing for Kirklees Council they consistently demonstrate commitment and reliability and it is providing a very high quality service. I wouldn't hesitate to recommend Get Out More's work. I feel the project is in safe hands and it's great working with them."
Adele Jackson, Creative Communities Officer, Kirklees Council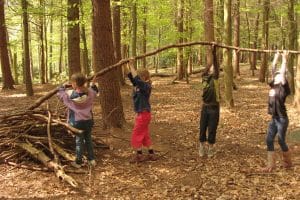 Theme: Play
Project: Holiday Forest School
Client: A Get Out More initiated project
The first Get Out More forest school took place in St Ives Estate, nr Bingley in August 2010.  It proved so popular that they have happened every school holiday ever since.  Children are coming back time and time again to enjoy the freedom and adventure of a few days playing out in the woods.  Activities are child-led but usually include den building, art, games and cooking on a campfire.  Get Out More also runs a holiday forest school in Ilkley and has plans for more in Shipley and Bradford.
"I like Forest school because I can get mucky and make new friends. I have learnt how to make proper dens and how to use a camp fire safely. I can't wait until the next Forest school"     
JDS (aged 9)
"No school holiday would be complete without a couple of days adventuring and exploring the woods with Get Out More.  It has been wonderful to see how both my children have grown in both physical and social confidence as a direct result of this activity.  Annie and Louisa's energy and enthusiasm is infectious and has certainly inspired a greater interest and excitement about the great outdoors."
Susan Richardson, parent
Click below to see The Richardson family talk about their experiences of Holiday Forest School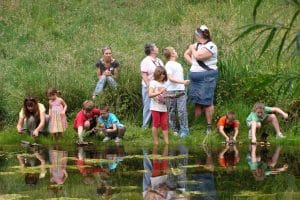 Theme: Natural Art
Project: Outdoor workshops
Client: Nidderdale Area of Outstanding Natural Beauty
In 2011 and 2012 Annie Berrington from Get Out More ran a series of outdoor workshops including den building, boat building, woodcraft and firecraft for Nidderdale AONB's event programme.  The outdoor events brought families to the area to learn new skills together and discover the beautiful valleys of Nidderdale.
"Thank you once again for running these sessions for us. They continue to be extremely popular and it is great for us to have such brilliant events in our programme"
Leanne Fox, Information Officer, Nidderdale AONB
Theme: Outdoor learning
Project: The Word Garden
Client: Artforms, Leeds City Council
The Word Garden is an exciting one day outdoor workshop for children in Key Stage 1.  The imaginative activities focus on developing language and literacy skills through fun, hands-on games and exercises.  Children take part in a role play story, explore their school outdoor area through their senses, create a multisensory group poem and curate their own museum of natural objects.  The outdoor programme stimulates fresh creative thinking and provides ideas for writing which can be extended in the classroom
"The children were completely 'in the zone' throughout the day and the work they produced was phenomenal! I would strongly recommend this workshop to any school"
June Evans,  Deighton Gates Primary School, Wetherby
Theme: Professional Development
Project: Outdoor Training Day
Client: All Saints Preschool, Ilkley
The pre-school wanted to make the most of the learning opportunities offered by the nearby parks and woodlands.  However they felt they needed more ideas, skills and confidence before they set off into the woods with the children so asked Get Out More for some help.  The one day training course  helped the staff to be more adventurous.  On a snowy January day the whole staff team went to play in the the woods where they learnt new outdoor skills and invented some activities of their own.  Around a campfire they discussed links to learning objectives, managed risk taking and equipment.  Staff said they felt more confident and inspired to get out more – adults and pre-schoolers now love their regular visits to the woods!
"It gave the staff a tremendous amount of confidence in their work with pre-school children and we will be in the woods with them any day soon. One of the best CPD training events we have attended" 
Vicky Wood, All Saints Pre-school