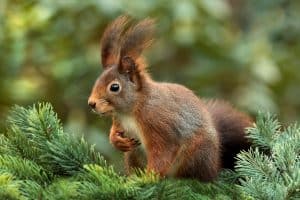 I had been trying to catch sight of red squirrels in the wild for a few years.  On trips to the Lakes or Scotland I had spent hours watching in woodlands to catch brief glimpses in the trees, but now in a woodland in my native Yorkshire they seemed to be everywhere, clambering up trees, scampering across logs and even running around my feet. The conifer woodland in Snaizeholme in Wensleydale is refuge for red squirrels who thrive there, thanks to its isolation and a conservation programme by local landowners.  Red squirrels are native to Britain, but now endangered due to the spread of the American grey squirrels introduced here in Victorian times.  When greys colonise an area they quickly wipe out our native reds, not because they fight them directly, but because they compete for resources and spread a pox which is deadly to red squirrels.  Wild red squirrels have all but disappeared from most of England but partnerships like Red Squirrels Northern England are working hard to monitor and maintain pockets of red squirrel resistance in the Cumbria, Northumbria and Merseyside.  Thanks to the dedication of conservationists and volunteers, Snaizeholme is one of several sites in the north of England where red squirrels have a stronghold, at the frontier between Scotland's reds and England's greys.
I think I remember watching red squirrels jumping through the trees in our village as a child, but I'm not sure if this recollection is correct, as by the 1970's the species were already well in decline .  My memories may be getting mixed up with Tufty, the famous safety squirrel of the time whose TV adverts taught us how to cross the road, (with the help of  Policeman Badger, Mrs Wise Owl and the careless Willy Weasel.  The creators obviously saw that British wildlife has a lot to teach us about road safety!)  Although we are far more likely to encounter grey squirrels in real life, the red squirrel still remains in our collective memory.  On checking again recently I notice that the squirrel that pops up in Get Out More branding is clearly a red, despite the fact that we are only likely to encounter greys at any of our forest schools.
When we got to Mirk Pot farmhouse, a red squirrel sat obligingly on a gate post, much to everyone's delight.  The walk took us through dark conifer woodlands where squirrels could be seen cavorting in and under the trees.  After a mile or so the path opened out in a viewing area where we could watch about a dozen squirrels who didn't seem to be shy at all.  The Kemp family who farm here planted the conifers about 40 years ago with the intention of growing Christmas trees, but were thrilled when a pair of red squirrels moved in. They wanted to share the experience with others so worked with the Yorkshire Dales National Park to create a management plan and a visitor viewing area.  The woodland is managed for the squirrels and special squirrel feeders ensure their natural food supply does not run short and visitors have a good chance of spotting these wonderful creatures.  Despite the cold, we watched them for ages, their energy and playfulness adding enchantment, colour and warmth to a grey autumn day.
(To visit Snaizeholme book in advance with the Dales Countryside Museum, who ring through and let the landowners know to expect you.  On arrival post £5 through the farmhouse letter box.  The Little White Bus service runs from Hawes to Snaizeholme between April – October or by arrangement)
I walked barefoot along the board walk early one summer morning, trying to creep up one of Britain's rarest mammals.  At this time of day, I had Malham Tarn to myself, so my ears were straining above the hum of insects and songs of birds, to hear a watery splash.  That was what had alerted me to its presence when I visited the nature reserve last summer, but today the slow moving streams were almost silent.  I peered into the clear water which runs into England's highest freshwater lake, but only the underwater reeds were stirring.
The water vole is Britain's fastest declining wild mammal and has disappeared from 90% of streams and rivers where they once lived.  Much loved as the loyal 'Ratty' in Wind in the Willows, the water vole is another British mammal that seems to pop up in story books, but is hardly ever seen, due to the combined threat of loss of habitat, pollution and attacks from introduced American mink.  However at Malham Tarn the species is making a comeback, thanks to a reintroduction scheme being undertaken by the National Trust.  Two hundred water voles have been released over a two year period, and now the animal is thriving in its new home, with some animals spreading up to a kilometre from the original introduction site.  As well as helping to conserve the endangered species, the reintroduction of the water voles is enabling the restoration of the fenland habitat, which will benefit other species such as fish and invertebrates too.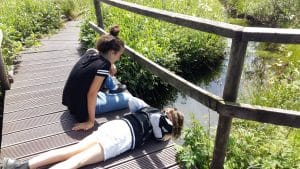 It wasn't my first visit to Malham Tarn to catch site of the water vole.  After accidentally coming across one the summer before, I was keen to see more, and a friend and I had visited the nature reserve with our children a month earlier.  The girls watched patiently from the bridges over the streams, but saw nothing but a lone fish.  There were signs of water vole poo on the feeding platforms close to the release sites and what looked like a burrow in the banking, but no water voles.  "You should have been here earlier. I saw one this morning", a ranger told us, in what is becoming a familiar comment in my quest to encounter British wildlife for my blog.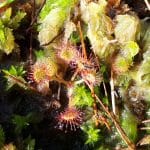 Determined, I returned on my own early one August morning and took my time to watch and listen. With no one hurrying me ahead, I walked slowly and enjoyed the range of wetland wild flowers that grow either side of the board walk, including marsh orchids and the tiny carnivorous sundew plant. Leaning on the bridge and listening to bird song I was suddenly aware of a rustling in the vegetation.  I focused my attention I realised something was chomping at the grasses and doing so with some heart.  Apparently water voles consume around 80% of their body weight in food everyday, so it seemed likely this was what I was hearing.  I stayed a while hoping to catch a glimpse but it was busy about its business of eating, hidden deep in the undergrowth.  I listened for a good twenty minutes, recording the munching on video, when suddenly, disturbed by the footsteps of a new visitor on the board walk, there was a distinct plop as it dropped into the water.  I caught a brief site of its sleek body swim across the stream and into a burrow.  Too quick to catch on camera, but a wonderful brief encounter with another rare sample of British Wildlife.
We regularly meet badgers in children's stories, usually as the wise old elder, (e.g. Wind in the Willows, Fanastic Mr Fox), or occasionally as a savage and cunning baddie (e.g. The Tale of Mr Tod, Watership Down), but either way, if there is an anthropomorphic tale set in a woodland, Mr Brock Badger will be there. Adopted as the symbol of the Wildlife Trusts and blamed for the spread of bovine TB, they seem equally loved and loathed and stand in the middle of the battleground of our attitudes towards nature.
So you feel you know badgers, but you never see them.  In a whole life, a good part of it spent in woodlands, the only badgers I have ever seen were dead by the side of the road. With all the roadkill encounters and news of horrific government culls, it seemed possible to imagine that badgers are nearly extinct, but as part of my quest to see British wildlife for my Wild Encounters blog, I enlisted the help of the Lancashire Badger Group, who offer visits to a hide for a small donation.
One May evening we left rainy Yorkshire and drove across the Pennines to find Lancashire bathed in sunshine.  Meeting Sue in a pub car park, we drove to a nearby farm and checked in with the farmer, who is rightly observant about who is visiting the badgers.  The evening sun cast long shadows as we walked through a meadow to reach the woodland where a wooden hide is tucked into the side of the hill.  It was obvious from this vantage point that the many holes dug into the woodland banks were bigger than rabbit warrens and this was the home to a large network of badger setts.  The children helped Sue scatter peanuts around while I set up my daughter's wildlife camera in the hope of catching some action.  We then retreated to the hide to wait for nightfall.
We had brought the children out of necessity, (and because they were as keen to see badgers as we were), but I was nervous about how on earth they (and I) would be able to keep still and quiet for hours.  But it was amazing how restful it was just staring at a darkening woodland. For a long time we honed in on any movement; a crow in a tree, a rabbit hopping through the grass.  Soon our senses were tuned in to the tiny details such as hovering midges, the snap of a twig and the shake of a leaf in the breeze.  As the woods grew still darker my hopeful mind was turning the trick of light and shadow on the ground into a badgers distinctive stripe.  However as minutes turned to hours we were starting to doubt we would be lucky enough to see any badgers at all, and trying to think of ways to not appear disappointed. It was nearly 10pm when Issy whispered she could see one in the undergrowth.  I could not, but within seconds, a striped snout appeared behind a tree and sniffed the air.  We sat up in our seats, fully attentive.
Cautiously at first and then with more confidence, the badger snuffled out into view and started munching on the peanuts.  It was soon joined by another and together they noisily hoovered up the scattered nuts, shuffling along the ground, while their hyper-sensitive noses continually sniffed for information.  At one point they seemed to detect a sudden danger, perhaps they had caught our scent on a gust of wind, and they darted back into the undergrowth.  But they didn't stay away for long and reappeared at another side to snuffle around for more snacks.  At one point a fox cub peeked out from behind a tree and the scene was almost impossibly sylvan, but the cub thought better of it and left quickly.
We were regretting the angle we had set the wildlife camera, but as if on the instructions of a film director, the bigger badger left stage right, triggering the camera's movement sensor.  He  wandered down the bank, paused to get his best angle, then trundled off into the woods.  Smaller badger also took his/her leave and although we waited a further half hour, there was no more sighting so we woke the by now sleeping girls, closed the hide, collected the wildlife cam and returned to the car, thrilled to have finally encountered the elusive Mr Badger.
All the anthropomorphising in the world will not protect this amazing species from the threats of traffic, loss of habitat and an outrageous and unjustified government cull.  A heartfelt thank you to groups like the Lancashire Badger Group and the Badger Trust who work hard to protect them.
Growing up hares seemed much more common a sight, hiding in the long grass or boxing in the fields.  These days I rarely see them, but when I do they delight and transfix me, like the one last summer that appeared when I was lost down a country lane and lolloped along in front for several minutes, as if to guide me in the right direction.
For my Wild Encounters blog I researched where I might see some brown hares, and discovered that the Peak district has its own colony of mountain hares, whose coats turn Artic white in winter.  Unlike brown hares, which arrived with the Romans, mountain hares are native to the UK, but only naturally in Scotland.  They arrived in England probably thanks to introduction by landowners interested in increasing the variety of game to hunt.  As with much wildlife, mountain hares are at risk due to habitat destruction and illegal hunting, but in the Peak District, the RSPB  conservation work is helping the population of mountain hares to recover.
One snowy day in January a friend and I drove our children to Dovestone reservoir to walk up the valley and see if we could spot the mountain hares.  I had thought it would be wonderful to see the white hares in the snow, but obviously that was a ridiculous notion – it makes them harder to spot! We walked up the steep valley with binoculars in hand looking for anything moving amongst the rocks, but saw nothing but black grouse.  Near the reservoir we met a couple who had seen one and followed their directions on the top paths.  We excitedly followed unmistakable trails of hare footprints in the snow, but sadly the mountain hare alluded us.
Determined, daughter Bea and I signed up for the RSPB's Mountain Hare talk in February and gathered with others one Sunday morning in a small pub to hear a fascinating talk on the species. As a group, we set off to walk back up the Chew valley as before, but with volunteer guides to help us.  There was no snow this time to disguise their winter coats, however thick fog meant visibility was low and if the hares were there, we couldn't pick them out.  Bea found several bits of snagged white fur, and Malteser-like brown droppings, which were confirmed as belonging to the hare, but no hares here.  Trying not to appear disappointed, we headed back down, clambering over a few rocks to see what was hiding underneath (discarded plastic bottles, mainly.  What's wrong with people?).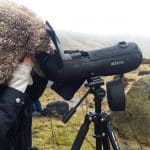 Imperceptibly, the fog lifted a little and suddenly a cry went up "Found one!" and a volunteer was pointing at a fuzzy white shape on the hillside.  With binoculars it was clear to see it as mountain hare, sheltering by a rock grooming itself.  Nearby was another twitchy nosed hare clearly looking back at us.  It was magical and slightly surreal seeing an animal that looks like it belongs in the Artic, sitting there on a hillside in Greater Manchester, looking back at us.
On the way down with the fog lifting I spotted another white dot in the far distance,  just where we had come down the hillside on our previous snowy walk.  We had probably walked right past them in the snow.  Bea and I were delighted our return visit had paid off, showing us that if we want to have encounters with the wild, we are going to need patience and persistence.
With thanks to Miriam Biran and RSPB North West for their help finding the mountain hares and the conservation work at Dovestone that enables the wildlife to thrive.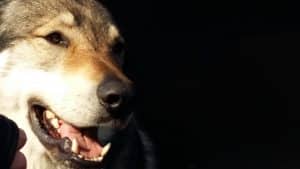 For my 2017 blog I want to seek out encounters with with some of the UK's native animals and birds.  Despite working outside in some beautiful Yorkshire woodlands, we rarely see much wildlife beyond birds, grey squirrels and the occasional startled deer.  The time of day and the noise of children enjoying forest school has a lot to do with that.  But significantly our chances of coming face to face with the wild are dwindling as many man-made factors such as development, pollution and climate change are causing nature to disappear at a disturbing rate.
For my first encounter I decided to start at the top, with the animal that to me embodies the spirit of the wild; the wolf.  Wolves are native to the UK, however the last one in England was killed several hundred years ago, hunted to extinction thanks to an extermination agenda initiated to protect  livestock and precious deer in the royal hunting reserves.  The story goes that England's last wolf was killed at Humphrey Head, a limestone outcrop on the Lake District peninsulas.  Wolf descendants have now returned to Cumbria, in the form of a pair of wolf hybrids living as part of a pack with Daniel and Dee Ashman from the Predator Experience.  On one of their 'Walking with Wolves' experiences, I met Maska and Kajika, a stunning pair of male wolf hybrids; timber wolves with some Czechoslovakian wolf dog bred in to them, or as Dee described 'as much wolf as you are legally allowed to keep in this country'.
I am fascinated by wolves and would love to see them in the wild, but on this experience I had the chance to get up close and interact with them, in as much as you can interact with a 40kg animal with all its wild instincts intact.  We were shown how to properly introduce ourselves by letting them sniff our hands, and that was all that was required to be accepted into the pack and set off on a walk together.  The wolves are not allowed to run free, which was understandable given their powerful hunting instinct.  Even with 2 of us holding the lead, I was aware of the huge strength that was pulling us along.  This was definitely not like walking the dog.  Daniel and Dee explained how their animals differ from domestic dogs, who even as adult animals are basically arrested in their development at the stage of a 45 day old wolf pup.  Unlike dogs, wolves see no need to please or play; every action is driven by their powerful instincts to work as a pack unit to hunt and survive.
At the top of a hill we came to a reservoir where two swans glided over to check us out.  For Maska and Kajika it was like dinner was coming over to meet them.  Dee and Daniel took over the leads as the wolves strained to get in the water and hunt the swans.  The couple are studied experts in the evolution, physiology, social structure and conservation of wolves and shared some fascinating information about their lives.  I was really interested in complex social ranking system that dictates pack behaviours and the range of howls that communicate sophisticated meanings.  We were treated to a family bonding howl that echoed across the fells and sounded like a haunting cry for a distant time and place when wolves roamed our country.
On the way back down we discussed the reintroduction of wolves.  This has successfully happened in Yellowstone Park in America, where bringing back a keystone species has had a positive effect on the biodiversity, as deer and elk are forced to retreat from open country, allowing the regrowth of plants which in turn increases other species populations.  Sadly however I learnt this would not be possible in the UK as our lack of wilderness area means there is not sufficient space to support the number of wolf packs needed to prevent interbreeding.
After saying goodbye to Maska and Kajika, we left to walk our own very domesticated wolf descendent (our greyhound Jet), deciding to visit nearby Humphey Head.  Standing at the bottom of the cliff looking out across the estuary, it was poignant to imagine the last wolf cowering amongst the rocks as it was hunted down to its bloody demise, a sad end for a beautiful and powerful creature with whom we will not share this country again, but who can teach us a lot about our relationship with nature.